Nations Have the Right to Kill: Hitler, the Holocaust and War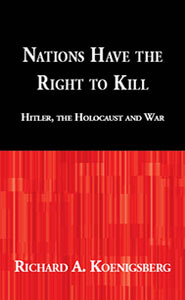 Author:
Richard Koenigsberg
Review of Nations Have the Right to Kill
By Emerson Smith, University of South Carolina School of Medicine
Koenigsberg uses the example of the rise of Hitler and the Third Reich and the Holocaust as the basis for his argument that nations use war and the human sacrifice of war as a way to bring the nation together as a cohesive social unit. But his argument applies to the use of capital punishment, sending soldiers to war for any country, killing those who are thought to be enemies of the nation, or any situation where it is a political body that kills people or leads people to kill for any reason.
Recently I overheard a conversation between a German man and an American woman. The American asked the German about whether Germans celebrated the sacrifices of the Germans who died fighting during World War II. He said, quietly, "No, we don't." She questioned why, since Americans who died in war, she explained , became heroes and their graves are honored during national celebrations each year. US families of those killed in war, she went on to explain, get an American flag that is proudly displayed in their homes. He tried to explain, saying to her, "Well, we lost that war."
One of the key characteristics of most nations is that the nation reserves the right to kill and to send its citizens into situations where they may be killed. Citizens proudly say, "I will die and kill for my country." The nation has no liability for those killed. And those who kill according to the international rules of war, are not liable for killing another human being.
The author is not necessarily a proponent of nations having a right to kill. He explores the notion that nations have a right to kill and how far that extends into taking the lives anyone who is in the path of the nation's march to glory or conquest or economic superiority.
Some people who are not Muslims, for example, do not understand how a Muslim can believe that he or she can have a glorious afterlife through death in service to his or her religion, whether that death is as a person openly fighting for his religious principles in the streets or is as a suicide bomber that unobtrusively enters a crowded bus or store. These same people who are not Muslim but have their own religious beliefs, for example, will go off to war or send their sons and daughters off to kill or be killed, as a sacrifice, to honor their country and to preserve their country. They say there is no higher honor.
This book will make the reader think about the authority of the state or nation to take life. In the United States, people honor those who serve in the military, regardless of which state they are from. In the European Union, will there ever be a day that each country removes its country's uniforms and its country's arms, whether that be the UK or Germany or France, and only wears the uniform of the EU and only has EU weapons. The concept of an EU Army is being considered. What would that do for the national pride of each country in the EU? What if only the EU and not France, for example, had a right to kill?