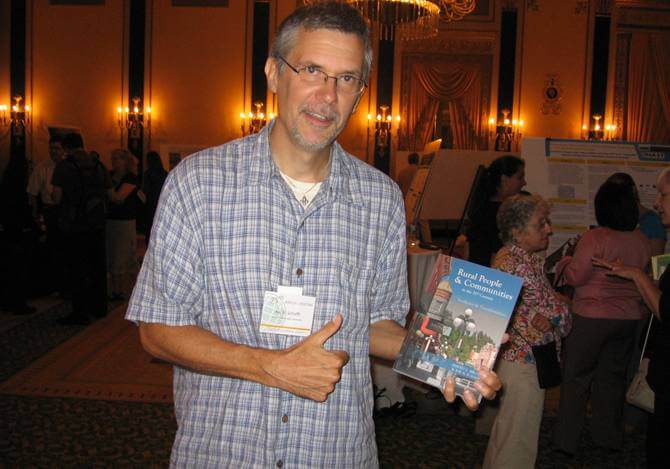 Kai Schafft, Rural People & Communities in the 21st Century (Polity), exhibited at the Rural Sociological Society meeting.
Library of Social Science's 2016 Premium Promotional Package
An entire table for your books—including banner/runner with publisher name—and distribution of your catalogs.
Sale of multiple copies of selected titles at conferences—with author signings.
Promotion and sale of publisher titles through the LSS Newsletter.
Review of publisher titles through LSS Book Reviews.
Stay tuned for information on this exciting opportunity.

In two previous Library of Social Science Newsletters we conveyed the experience and purpose of an LSS Book Exhibit: our displays become the center of a conference—putting new and significant books in front of the eyes of their target market; becoming indispensable tools for promoting your titles.

At a recent LSS Book Exhibit, we promoted several titles recently published by Oxford University Press. We purchased multiple copies and set up author signings.

The experience was so positive and successful that we've decided to make selling author titles—and author signings—a permanent part of our exhibit template.

This was not the first time we had featured and sold specific author titles at our exhibits. PLEASE SCROSS DOWN THE PAGE TO SEE AUTHORS PHOTOGRAPHED WITH THEIR BOOKS.

Library of Social Science is offering in 2016 our Premium Promotional Package to selected publishers. The package will include full table displays with banners/runners.

We also will promote your books through the LSS Newsletter—bringing your titles to tens-of-thousands of scholars, professionals and students around the world.

An outline of our Premium Promotional Package appears to the right. PLEASE STAY TUNED FOR DETAILS.

With regards,
Richard Koenigsberg, PhD
Director, Library of Social Science

Sarah Hardy and Justin Garcia, Evolution's Empress (Oxford) and Mother Nature (Random House), exhibited at the Human Behavior and Evolution Society Conference.

James McRae, Environmental Philosophy in Asian Traditions of Thought (SUNY Press), exhibited at the ASIANetwork conference.

Kenneth Gergen at his book signing of Relational Being (Oxford University Press), exhibited at the Psychology and the Other Conference.

Natasha Bowens, The Color of Food (New Society), exhibited
at the Community Development Society Conference
Mark Shucksmith and David Brown, Rural Transformations and Rural Policies in the US (UK Taylor & Francis/Earthscan), exhibited at the Rural Sociological Society meeting.

Michi Fu, Handbook of Asian American Psychology (SAGE Publications),
exhibited at the National Multicultural Conference and Summit.


William Wilson signing books from University of Chicago Press
at the Association for Applied and Clinical Sociology conference.


John Wilsey, One Nation Under God? (Wipf & Stock Publishers), exhibited at the Society for US Intellectual History conference.

Derald Wing Sue signing one of his books (John Wiley & Sons) at the National Multicultural Conference and Summit.

Peter Shabad, Despair and the Return of Hope (Rowman & Littlefield), exhibited at the International Association for Relational Psychoanalysis and Psychotherapy conference.

Joseph Stevenson, Action Research for Higher Educators, Hear and Now and Modernizing the College Curriculum in American Higher Education (Academica Press), exhibited at the Society for Humanistic Psychology conference.

Diane Goodman, Promoting Diversity and Social Justice (Taylor & Francis), exhibited at the Teachers College Winter Roundtable.

Corinne Field and Nicholas Syrett, Age in America (NYU Press), exhibited at the Society for the History of Children and Youth conference.