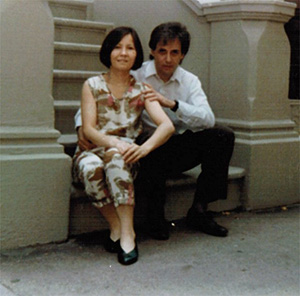 Richard Koenigsberg and Mei Ha Chan in front of my apartment at 16 West 95th Street, Manhattan—Library of Social Science's first home.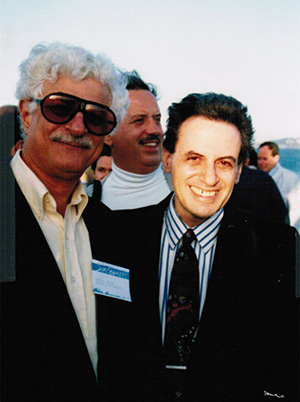 Vamik Volkan & Richard Koenigsberg at a meeting of the ISPP (International Society for Political Psychology).
Library of Social Science is a Book Exhibit Management Company—and scholarly research institute bringing together the world's greatest thinkers to explore the sources and meanings of collective forms of violence.
It all began with a meeting of the International Society of Political Psychology that took place in Secaucus, NJ, in July 1988. My missions—of studying collective forms of violence and creating book exhibits—were united from the beginning.
Library of Social Science was founded in April 1975 with the publication of Hitler's Ideology. One thousand hardbound copies were delivered to my one-bedroom apartment on West 95th Street. From this point forward, I never had a "job." I was on my own, a complete unknown.
I focused my energy on selling my book. I was successful at getting Hitler's Ideology into the hands of many of the important scholars in the field—and was able to turn my book into a best-seller in the college library market. What to do next?
Lacking the resources to establish a publishing company, I spent a great deal of time browsing at the flagship store of Barnes and Noble's (at Fifth Avenue and 18th Street). I was astonished to discover books by some of my favorite authors (e. g., Kurt Eissler and Leslie Fiedler) selling at ridiculously low prices. I went into the "remainder book business."
I transformed into an "entrepreneur" (way before this term was fashionable). I set up an office at Sofia Brothers Warehouse. I stayed in business (barely) by becoming an expert in telephone marketing.
For eleven years (1975 to 1986), I had virtually no contact with academia. However, those were the days of disco—and the Nights on Broadway. It's not that hard to live outside of the symbolic order.
Then in 1986, to my surprise, I received a letter from an Israeli psychoanalyst and author, Avner Falk, inviting me to participate in a panel at the 1987 meeting of the International Society of Political Psychology (the ideas in two articles by Falk on "Border Symbolism" connected with ideas I'd developed in Hitler's Ideology and The Psychoanalysis of Racism, Revolution and Nationalism). I arrogantly turned him down.
Falk invited me again in 1987 for the 1988 ISPP meeting. I said, what the hell—let's give it a shot—see what's going on in the world I had abandoned. For my first academic "panel" ever, they teamed me up with Dr. Vamik Volkan, perhaps the most prominent political psychologist in the world (subsequently nominated five times for the Nobel Peace Prize).
The International Society of Political Psychology was founded in 1978 by Jeanne N. Knutson of the Department of Psychiatry and Biobehavioral Sciences at UCLA. After her death in 1981, Denis Snook (a student of Knutson's with a PhD in Political Science) served as Conference Director.
Denis organized a little book exhibit for the 1988 ISPP conference (as he had, apparently, at previous meetings)—and invited me to participate. Again I said, what the hell—let's give it a shot. I brought some of the books I'd been selling to libraries (perhaps 14 titles) and set them up—with my partner, Mei Ha Chan—on two tables. That is where it all began.