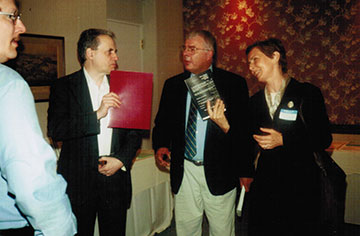 Elizabeth Schant-Bradley with her copy of Hitler's Ideology—after Koenigsberg's Plenary Talk at the Annual Holocaust Conference at Millersville University (with Conference Director Jack Fischel)
Please order immediately to make certain you obtain your copy.
Best regards,
Orion Anderson, Editor-in-Chief
Library of Social Science
(718) 393-1104
oanderson@libraryofsocialscience.com
This work deserves to be an instant classic. With care and caution, Koenigsberg remains close to the data from which he adduces his theory. Koenigsberg suggests that what is at stake is larger than an explanation of Hitler, Nazism, or even nationalism: it is, rather, an explanation of culture itself. Koenigsberg's genius has unlocked many of the unconscious secrets of a timeless drama.
—Howard F. Stein, Journal of Psychoanalytic Anthropology
ESSENTIAL BOOK for researchers
and teachers on: Hitler, Nazism, the
Holocaust and Fascism.
We want you to have and use this essential work. Therefore, for a limited time, Hitler's Ideology is available at the very special rate of $7.76 for the paperback (list $25.00), and $14.95 for the hardbound (list $49.95).
Please click through to Amazon immediately
to make sure you receive your copy.
The LIST OF TABLES below present what Koenigsberg discovered—the central
themes of Hitler's ideology.

Dr. Koenigsberg is one of the few authorities on Hitler and Nazism whose formal training is in (Experimental) Social Psychology. What is unique about Hitler's Ideology is it rigorous methodology. Koenigsberg identifies Hitler's main ideas or themes inductively—through comprehensive analysis of the central images and metaphors that appear in Hitler's writing and speeches.

Koenigsberg presents his data or findings in tabular form. Historians often refer to this book first—citing passages directly. No researcher doing serious work on Hitler, Nazism, and the Holocaust can be without this foundational study.