Koenigsberg defines psychoanalytic sociology as a science whose objective is to identify the psychological roots of cultural ideas and beliefs, particularly those embodied in modern ideologies. Whereas conventional social theory often is satisfied with "discourse" as an explanatory concept, Koenigsberg explores the unconscious desires and fantasies that are the source of cultural narratives.

Hitler's Ideology is the "go to book" for research on Hitler's ideas and Nazi ideology, an invaluable resource for historians, sociologists, anthropologists and psychologists.

Please order immediately to make certain you obtain your copy. Some of you who ordered The Psychoanalysis of Racism, Revolution and Nationalism yesterday were disappointed. We sold out every single copy.

Best regards,
Orion Anderson, Editor-in-Chief
Library of Social Science
(718) 393-1104
oanderson@libraryofsocialscience.com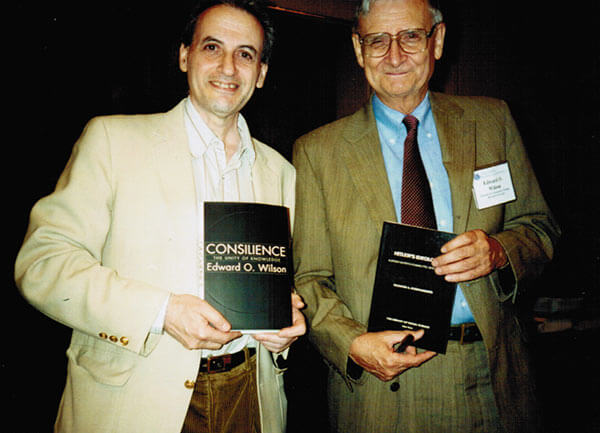 Edward O. Wilson, Father of Sociobiology (holding Koenigsberg's Hitler's Ideology), and Richard Koenigsberg (Father of Psychoanalytic Sociology) holding Wilson's Consilience.
This work deserves to be an instant classic. With care and caution, Koenigsberg remains close to the data from which he adduces his theory. Koenigsberg suggests that what is at stake is larger than an explanation of Hitler, Nazism, or even nationalism: it is, rather, an explanation of culture itself. Koenigsberg's genius has unlocked many of the unconscious secrets of a timeless drama.
—Howard F. Stein, Journal of Psychoanalytic Anthropology
The best critical analysis in English of Hitler's thought.
—Colin Day
Presents an ingenious technique for identifying the psychological origins of political and social events.
—The Village Voice
An imaginative and important work.
—Robert G. L Waite, author, The Psychopathic God: Adolf Hitler
Koenigsberg's remarkable research on Nazism is supported by an astonishing number of convergent quotations.
—Janine Chasseguet-Smirgel, International Review of Psychoanalysis
Brilliant and fascinating: Koenigsberg's work is so insightful that it should be required reading in the education of everyone in the civilized world.
—Joe E. Wyatt, Society of Modern Psychoanalysis
Hitler's Ideology: A Study in Psychoanalytic Sociology
Richard A. Koenigsberg
Table of Contents
Preface
List of Tables
Abbreviations of Works Most Frequently Cited
PART ONE: IDEOLOGY AND PHANTASY
Introduction
Chapter I: Hitler's Ideology
Destructive Forces in the National Body
The Source of Destructive Forces
The Struggle Against Submission
The Union of Austria and Germany
The Individual and the Nation
Conclusions: the Psychological Meaning of Hitler's Ideology
Chapter II: The Death of Hitler's Mother
The National Body = Hitler's Dying Mother
The Denial of Death
Reality and Unconscious Phantasy
Summary and Conclusions
PART TWO: SOCIAL BEHAVIOR
Chapter III: Anti-Semitism
The Maintenance of the "Goodness" of the German People
"Separating out" the Jew
Psychodynamics
Chapter IV: War
War as a Struggle Against Death
"Protecting the Rear"
The Need for Territory
Summary: Motives for War
PART THREE: THEORY
Chapter V: Ideology and Phantasy
Chapter VI: Nationalism
Introduction
The Nationalist Ideology
The Denial of Separateness
Serving the Country = Serving the Mother
The Country as a Projection of Infantile Narcissism
"Save the Country"
The Maintenance of the "Goodness" of the Nation
Summary and Conclusions
Appendix
Bibliography
Index