23rd Annual Conference of the Association for the Psychoanalysis of Culture and Society (APCS)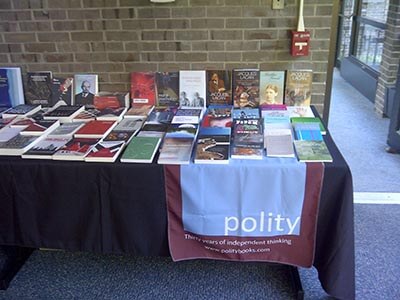 Library of Social Science creates book exhibits of unsurpassed quality, bringing together at each conference a comprehensive collection of the latest and most significant titles. Polity—one of the world's leading publishers in social science and cultural studies—produces cutting-edge work of the highest quality.Their titles are among the our most popular ones.

Below are photos of Polity's books on display at 2017 LSS Book Exhibits. Please scroll down and take a look.

Polity's titles were on display at every one of our 2017 meetings; at several, over 100 titles were exhibited (occupying three tables).

There are many factors authors may consider in selecting a publisher. One of these is how devoted the press is to promoting one's book. Those who publish with Polity can rest assured—this organization stands behind its authors.