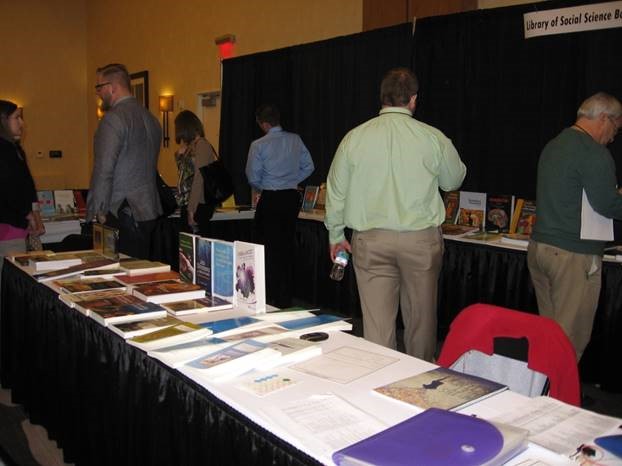 Click on the image above to enlarge it.

The Southwestern Psychological Association convention is included in Library of Social Science's 2017 Promotional Package—
details coming soon.

Dear Colleague,

LIBRARY OF SOCIAL SCIENCE is organizing the book exhibit for the 2017 convention of the Southwestern Psychological Association (SWPA).

Founded in 1954, SWPA prides itself on serving the psychological community by providing access to scientific advances and professional development within a collegial atmosphere. With an international membership, SWPA's exciting annual conference brings together nearly 1500 scholars, psychologists, therapists, counselors and students. These influential clinicians and therapists seek the latest titles on the full range of psychology and mental health topics.
This year's Keynote presentations are:

Kip Williams
(Purdue University)
"Ostracism: Consequences and coping"

Holly Arrow
(University of Oregon)
"Valuing and Devaluing Lives in Peace and War"

Paul Piff (University of California, Irvine)
"Exploring Cultural Variation Using eHRAF World Cultures"

Joel Shenker (University of Missouri, Columbia)
"Broken Social Brains"

Robert Morgan
(Texas Tech University)
"Beyond Pop Culture: The application of science in forensic psychology"

Kathi Miner (Texas A&M University)
"What Is an Insult? How subtle interpersonal discrimination affects women's persistence in STEM"

Regan AR Gurung (University of Wisconsin, Green Bay)
"Developing Healthy Study Habits: Teachers as fitness trainers of the learning world"

William Revelle (Northwestern University)
"Personality Research: An open and shared science"
This is one of the best opportunities of the year to promote your books on the theory and practice of psychology, myth-making, and related topics ranging from trauma, forensic psychology and child and adolescent development to sexual identity, multicultural psychology and neurological and genetic influences on mental health.
For information on exhibiting at the 2017 Southwestern Psychological Association convention, please email Hugh Galford at bookexhibits@libraryofsocialscience.com.

Attendees seek titles on all aspects of Psychology, including:
• Consciousness studies
• Psychotherapy methods
• Training & supervision
• Multicultural competencies
• Mental health care access
• Forensic/legal psychology
• Psychology & religion
• Military & veteran populations
• Child & adolescent psychology
• Trauma & disability
The Library of Social Science book exhibit will be located in the Regency West and Center rooms on the Ballroom level at the Hyatt Regency—at the center of the meeting space alongside poster sessions—and open to attendees throughout the meeting.

Our professional exhibit managers will be on-site throughout the conference. We actively promote your titles by discussing books with conferees, distributing flyers and catalogs, selling books on-site using publisher-supplied order forms, and urging faculty to consider titles for course adoption and library acquisition.

For information on exhibiting at the 2017 Southwestern Psychological Association convention, please email Hugh Galford at bookexhibits@libraryofsocialscience.com.

With best regards,
Mei Ha Chan