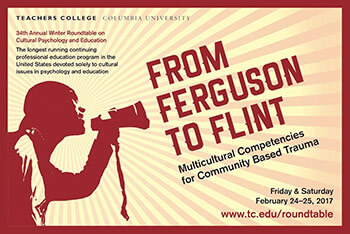 Click on the image above to enlarge it.

Dear Colleague,

LIBRARY OF SOCIAL SCIENCE is organizing the book exhibit for the 2017 Teachers College Winter Roundtable on Cultural Psychology and Education (TCWR).

Teachers College Winter Roundtable is included in Library of Social Science's 2017 Promotional Package—
details coming soon.

The Winter Roundtable—sponsored by Teachers College—is the longest-running professional education program devoted to studying the psychological and educational implications of race, ethnicity, class, gender, sexual orientation and religious affiliation.

This year's Invited Speakers are:
| | |
| --- | --- |
| | Marie Miville (Teachers College) is Professor of Psychology and Education and Chair of the Department of Counseling and Clinical Psychology. The past director of TCWR, she is also president of the National Latina/o Psychological Association. She is the 2017 recipient of the Janet E. Helms Award for Mentoring and Scholarship in recognition of her influence as a scholar and mentor and for her cutting-edge work on multicultural gender roles and promoting wellness amongst marginalized communities. |
| | Anneliese A. Singh (University of Georgia) is Associate Professor of Counseling Psychology and the Associate Dean for Diversity, Equity, and Inclusion. Her research interests include multicultural counseling and social justice, transgender resilience and transgender people of color, qualitative methodology with historically marginalized groups (people of color, LGBTQI, immigrants) and feminist theory and practice. She has received numerous awards, including the PI Early Career Award from the American Psychological Association. |
| | Jelani Cobb (Columbia University) is Professor of Journalism who writes about the enormous complexity of race in America. He received the 2015 Sidney Hillman Prize for Opinion & Analysis Journalism for his New Yorker columns on race, the police and injustice, in which he combined "the strengths of an on-the-scene reporter, a public intellectual, a teacher, a vivid writer, a subtle moralist, and an accomplished professional historian." His most recent book is The Substance of Hope: Barack Obama and the Paradox of Progress. |
| | Janet E. Helms (Boston College) is Augustus Long Professor of Counseling Psychology and Director of the Institute for the Study and Promotion of Race and Culture. She is a Fellow of APA's Division 17 (Counseling Psychology) and Division 45 (Ethnic Diversity). She has written more than 60 articles and four books on racial identity and cultural influences on assessment and counseling practice. Her books include A Race Is a Nice Thing to Have and Using Race and Culture in Counseling and Psychotherapy: Theory and Process. |
| | Wesley Lowery (The Washington Post) covers national politics, race, justice and law enforcement. He was a lead on the Post's "Fatal Force" project that won the Pulitzer Prize for National Reporting in 2016, and was named "Emerging Journalist of the Year" by the National Association of Black Journalists. |
With over 600 expected to attend, this is the best meeting of the year to promote your titles on multiculturalism, counseling, social work, education and psychology to leaders in the field.
For information on exhibiting at the 2017 Teachers College Winter Roundtable, please email Hugh Galford at bookexhibits@libraryofsocialscience.com.
TCWR attendees seek titles on all aspects of education, psychology and counseling, including:
• Educational theory
• Education reform & curriculum
• Psychotherapy methods
• Counseling
• Multicultural studies
• Social media & social justice
• Race & ethnicity
• Gender & sexuality
• Aging & the life course
• Social work
The Library of Social Science book exhibit will be located in the hallway outside Everett Lounge in Zankel Hall—at the center of the meeting space and open to attendees throughout the meeting.
Our professional exhibit managers will be on-site throughout the conference. We actively promote your titles by discussing books with conferees, distributing flyers and catalogs, selling books on-site using publisher-supplied order forms, and urging faculty to consider titles for course adoption and library acquisition.
For information on exhibiting at the 2017 Teachers College Winter Roundtable, please email Hugh Galford at bookexhibits@libraryofsocialscience.com.
With best regards,
Hugh Galford