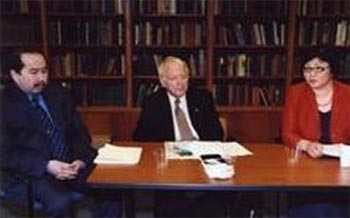 Ambassador Jeenbaev, Ambassador DeLuca, and Foreign Minister Rosa Otunbaeva—at an Academic Colloquium "Tulip Revolution" in New York City.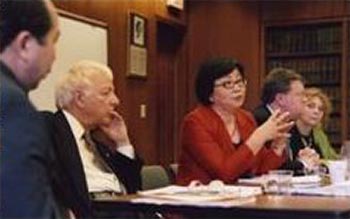 Ambassador Jeenbaev, Ambassador DeLuca, and Rosa Otunbaeva.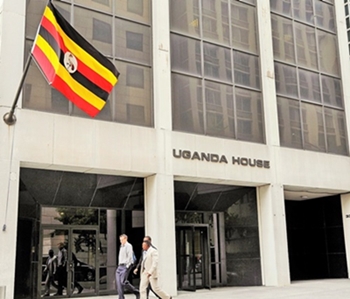 My class was held in the Uganda House, located across the street from UN Headquarters.

By 2006, the Library of Social Science Newsletter had been established— enabling me to convey my ideas to scholars around the world. However, having received substantial training as a lecturer, I still prioritized "in person" presentations as the vehicle for conveying my research findings and theories.

I needed a place or venue at which I could present my ideas—an established institutional setting that could confer prestige and respectability.

As the saying goes, "Be careful what you wish for, you may get it." In June 2006, I received an email responding to an essay I'd published in the LSS Newsletter: "Astonishing."

The author of the email was his Excellency Anthony J. DeLuca, the only certified psychologist with Ambassador status at the United Nations. In addition to being an Ambassador, Dr. DeLuca was Rector of a small college he had founded, Ignatius University (affiliated with Sofia University in Bulgaria).

His School of Diplomacy provided a graduate program and offered a PhD. Dr. DeLuca focused on training people affiliated with the UN who wanted to learn to use psychology to resolve political conflicts.

I met with Dr. DeLuca at the United Nations. In July, he invited me to attend a graduation ceremony for Ignatius University students in Staten Island.

We agreed that I would teach a four session course in the Fall on "War, Violence and Conflict Management" (my first assignment as a college instructor since I'd "retired" from the field of teaching 15 years earlier).

My class took place in a beautiful conference room at the Uganda House, home of the Permanent Mission of the Republic of Uganda to the United Nations. Given the wonderful venue of the UN, who knew what exciting possibilities might develop?