Brill Asian Studies Newsletter (July 2016)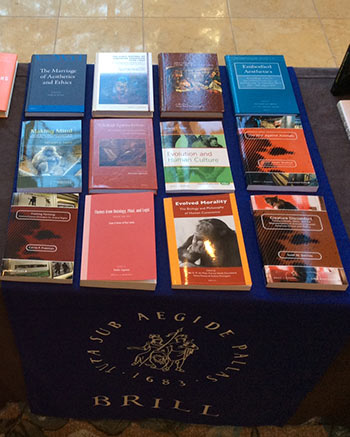 LSS presented a substantial selection of BRILL publications at the recent Human Behavior and Evolution Society conference (Vancouver, June 29–July 2)
Library of Social Science is pleased to present the July edition of the Brill Asian Studies Newsletter.
The highlight of this issue is Brill's new digital-only product: Mobilizing East Asia Online. This exciting collection of newspapers and lavishly illustrated magazines, often in color, shows the route from Russia's defeat by Japan in 1905 to Japan's own defeat in World War II, through seismic upheaval in China and the onset of systemic change in Asia. Click here to request free trial access for your institution.
Please click through the links below to read about each book or journal — and to make your purchase. Alternatively, recommend the books and journals to your college library. Brill publications are of the highest quality and belong in every college library seeking to develop a serious collection of Social Science titles.
Mobilizing East Asia Online - Newspapers, magazines and books from the 1900s-1950s
| | | |
| --- | --- | --- |
| Over three centuries of scholarly publishing | | |

| | | |
| --- | --- | --- |
| | | |
NEW: Mobilizing East Asia Online

Newspapers, magazines and books from the 1900s-1950s

A carefully selected and tightly organized range of essential English-language newspapers, magazines and pamphlets following the descent into war in East and South-East Asia from the turn of the twentieth century to the 1950s.
English-language newspapers and magazines published in East Asia
Approx. 47,500 pages of over 1,200 print items
All content fully text-searchable
Sourced from extremely rare and unique originals
Visit our website for more information.
Bali in the Early Nineteenth Century


The Ethnographic Accounts of
Pierre Dubois
Helen Creese


June 2016 - ISBN 978 90 04 31582 2


List price: EUR 139.- / US$ 180.-


Verhandelingen van het Koninklijk Instituut
voor Taal-, Land- en Volkenkunde, 305
Meanings of Community across Medieval Eurasia

Comparative Approaches
Edited by Eirik Hovden, Christina Lutter
and Walter Pohl


June 2016
ISBN 9789004311978 / E-ISBN 9789004315693

List price: EUR 135.- / US$ 175.-

Brill's Series on the Early Middle Ages, 25
Rewriting Kalila wa-Dimna in Timurid Herat

Christine van Ruymbeke

July 2016 - ISBN 978 90 04 31028 5

List price: EUR 140.- / US$ 181.-

Studies in Persian Cultural History, 11
Brill Launches New Collection of Review Journals

Brill Research Perspectives is a family of reference journals that provide an in-depth introduction to key research areas in the Humanities, International Law, and Social Sciences. Written by top authors in the field, they combine the verification of peer review, high usage of reference works and the pedagogy of textbooks. Launched in 2016, the package consists of 13 journals which are available in print and online. In 2017, 9 new titles will be added to the package.
For more information see brill.com/brp.
To subscribe to individual journals, the entire package, or to request a trial, contact our Sales department at
sales-us@brill.com (the Americas) or sales-nl@brill.com (Europe, Middle East, Africa & Asia-Pacific).
_______________________________________________________
A new table of contents is available for the following journals:
Doing Good and Ridding Evil in Ming China: The Political Career of Wang Yangming

George Lawrence Israel


"This is a most welcome addition to the bookshelf of Chinese history. (..) Israel has thoroughly combed the original sources and has engaged much of the recent scholarship on Wang in English, Chinese, and Japanese. He has also brought in current theory as it relates to various questions that emerge aboutWang's activities. (...) Israel puts Wang Yangming's career into a contemporary idiom, and effectively attunes it to the way in which history is usually approached these days."


-JOHN W. DARDESS, (University of Kansas), Ming Studies, 73 (2016)
The Lost Geopoetic Horizon of Li Jieren


The Crisis of Writing Chengdu in Revolutionary China


Kenny Kwok-kwan Ng


"Kenny K. Ng offers much-needed insights into the regional culture of Chengdu, capital of Sichuan, and the less well-known but very creative literary writer, Li Jieren (1891-1962). The Lost Geopoetic Horizon of Li Jieren makes a significant contribution to our understanding of the politics of localized memory and alternative forms of microhistorical configurations of place against hegemonic macrohistorical narratives and cultural paradigms in the PRC."


-Yuehtsen Juliette Chung, National Tsing-Hua University, Taiwan, MCLC Resource Center Publication, June 2016
All of Brill's books are published simultaneously in print and electronic formats. For more information about all our E-Book purchase options, please visit our website.
| | | |
| --- | --- | --- |
| | | Brill's MyBook program gives users with access to an E-Book on BrillOnline.com the option to purchase a paperback copy for only EUR 25 / US$ 25 per copy. |