Picking Judges
Presidential Briefings
Nancy Maveety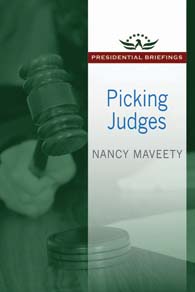 List Price: $19.95
Sale Price: $17.96 (10% Off!)
ISBN: 978-1-4128-6330-8
Pages: 132
Binding: Paperback
Publication Date: 02-02-2016
Also available as:
Hardcover
Google eBook
Nancy Maveety (Author)
Nancy Maveety is professor of political science at Tulane University, where she has taught courses in law and the courts for over twenty-five years. She is the author of several books on the US Supreme Court and judicial politics.
Description
What defines a president? Is it policymaking? A good relationship with the American people? Or is it legacy? Most would argue that legacy imprints a president in the American consciousness. A president's federal judicial appointees may be his or her most lasting political legacy. Because federal judges serve for life, their legal policymaking endures long after a president's term in office is over. Presidents who care about serving their mandate, who desire to maximize their policy agenda, and who wish to influence the nation's constitutional fabric appoint as many federal judges as possible.
This new volume in the Presidential Briefings series shows how the president's appointment power has expanded beyond its bare constitutional outlines. In exercising their constitutional powers while paying heed to political opportunities, presidents and the Senate have together created our modern judicial appointment politics. Presidents consider a host of demographic and ideological factors, candidate qualities, and electoral politics.
Nancy Maveety examines the dynamics of screening and choosing judicial nominees and analyzes the institutional calculus in securing their confirmation in the face of senatorial obstruction. Maveety shows how a president can adapt to particular circumstances and provides an outline for synergistically staffing the federal judiciary, thus securing a legacy for all time.
---
Editorial Reviews
"Written in an accessible and engaging style, Nancy Maveety's Picking Judges offers both an historical overview of federal judicial selection and a synopsis of the varied factors (about potential nominees and the context of nominations) presidents must consider. More importantly from a pedagogical perspective is the fact that Maveety writes with a strong point of view and makes a cogent argument about why presidents not only can but should "pack" the courts. This slim volume is itself packed with good stuff and challenges the reader to rethink old stereotypes of judges as outside of politics. It is a terrific read, both for its informative nature and its potential to shake up readers' preconceived ideas about what staffing the federal bench should look like."
—Wendy L. Martinek, Binghamton University