Below is a sample REQUEST FOR BOOKLIST that each publisher who participates in the 2016 Promotional Package will receive. We will send you a form like this approximately 6 weeks before each conference.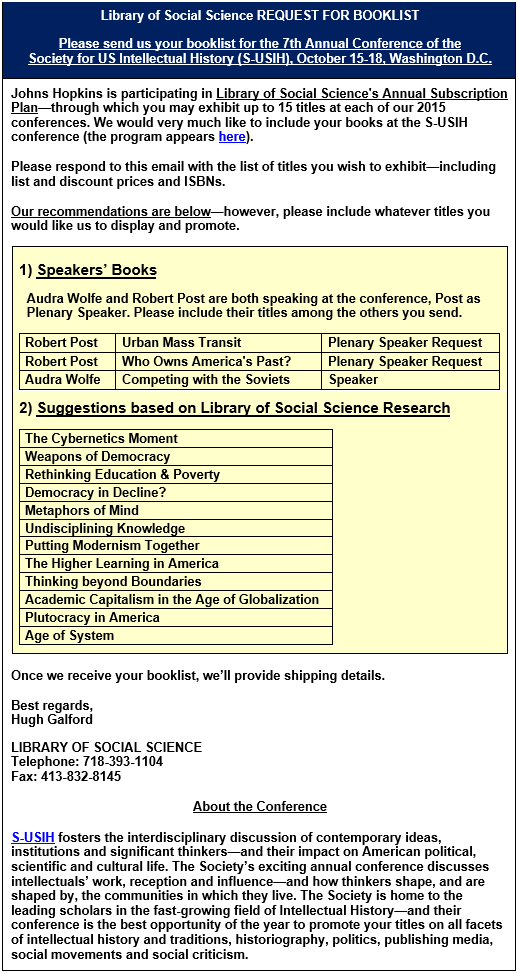 Exhibiting through our 2016 PROMOTIONAL PACKAGE means that you simply agree to receive a Request for Booklist before each conference book exhibit (sample form to the right).

THAT'S ALL THERE IS TO IT.

Publishers who exhibit through the LSS PROMOTIONAL PACKAGE are never required to participate in any particular book exhibit.

However, you have the option to exhibit at any or all of our 2016 book exhibits if you wish (see our schedule here).

BENEFITS OF EXHIBITING THROUGH
THE 2016 PROMOTIONAL PACKAGE
A single annual fee covers each and every conference at which you may wish to exhibit.
Extraordinary savings as compared with signing up on a conference-by-conference basis.
No endless letters and phone calls. You'll receive a Request for Booklist for each meeting.
We'll notify you when one of your authors is speaking.
DETAILS AND PRICE STRUCTURE COMING SOON.
Best regards,
Richard Koenigsberg