The Sacrificial Metaphor at the Heart of War:
The Work of Kelly Denton-Borhaug
Essays, presentations and videos by or about Kelly Denton-Borhaug appear below.
Each can be accessed by clicking the title.
Library of Social Science has developed home pages—platforms—for our special authors. To access our Featured Authors Web Site, click here. Roger Griffin's home page is here, Ivan Strenski's is here, and Michael Vlahos' is here. The home page for Kelly Denton-Borhaug appears here.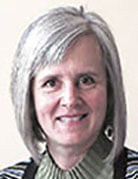 Kelly Denton-Borhaug
The sacrificial war narrative, Denton says, is our "national story." Sacrifice and the American state are "inseparably intertwined." The sacrificial metaphor at the heart of citizenship—inextricably tied to war—has incredible power, all the more so because most citizens are "unconscious of its active impact on our lives."
According to Denton, most citizens are "blithely unaware" of the sacrificial war culture that shapes our understanding of citizenship. The extent to which the sacrificial metaphor pervades our thinking makes it so ubiquitous as to reside largely "off the radar screen of overt awareness and consciousness."
But off the radar screen no more. The purpose of Library of Social Science's "space of freedom" is to provide a place where it is possible to know what previously had been unknown. We can breathe a sigh of relief, and begin re-writing history.
Political forms of violence are not evolutionary adaptations, nor expressions of an aggressive instinct or even of a "death drive." Rather, as Denton has discovered, warfare revolves around worshipping the ideal of sacrificial death; attachment to the idea that a nation becomes transcendent to the extent that human beings are willing to die for it.
Rev. Kelly Denton-Borhaug, Ph.D., is Associate Professor of Religious Studies at Moravian College in Bethlehem, PA. She holds a Ph.D. from the Graduate Theological Union, Berkeley. Her teaching and scholarly interests include Christian theology and ethics with a particular focus on the ethics of models of redemption in liberation theologies. She is the author US War-culture, Sacrifice and Salvation.
Essays and Presentations by Kelly Denton-Borhaug
Sacrificial "Linguistic Subterfuge," and the Times We're In (Guest Newsletter)
In our time, it seems that the only words we have to speak about the wounds of war are steeped in sacrifice. Our forgetful era is characterized by seemingly unaware repetitions of what poet Wilfred Owen described as 'the Old Lie.' We should stop and think about the spectacle of these sacrificial rationalizations that mostly are met with a resounding lack of critical appraisal. Is there really nothing more to be said after hearing for the millionth time, 'it is sweet to die (or be wounded) for one's country?'
Sacrifice, American Exceptionalism and War-Culture (Review Essay of Hauerwas, War and the American Difference)
Why are Americans "so easy with war"? In War and the American Difference: Theological Reflections on Violence and National Identity, Stanley Hauerwas takes up the challenge to probe and analyze this conundrum, and set forth an alternative. Here I lay out the argument of Hauerwas' book and highlight how and why so much of this is compelling and timely; but I also will discuss why I take a different path in terms of Hauerwas' theological response to the reality he describes.
De-escalating U.S. War-culture: A Primer for Peace Advocates (PDF Slideshow)
U.S. War Culture, Sacrifice & Salvation (Video)
Lecture given at The 1st Annual IntelliGen Conference on Religion & Violence, April 11, 2015 at Moravian Theological Seminary. Click the link below to watch her lecture.


Review Essay of Denton-Borhaug's Book
U.S. War-Culture, Sacrifice and Salvation