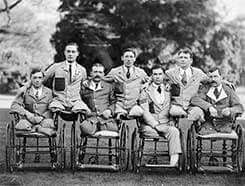 Limbless veterans at Roehampton Military Hospital (source).
---
In Dismembering the Male (1996), Joanna Bourke observes that public rhetoric in Great Britain during and after the First World War judged soldiers' mutilations to be "badges of their courage," the "hallmark of their glorious service", "proof of patriotism." The disabled soldier was not less but "more of a man."
A writer in The Times (1920) stated that next to the loss of life, "the sacrifice of a limb is the greatest sacrifice a man can make for his country."
Where legs were, there shalt nation be. The nation exists in the absence of this body part.
It would appear that these men have accepted their wounds—their loss—with dignity. They are honored by their country because they have "given their legs" for Great Britain.