Developmental Time, Cultural Space: Studies in Psychogeography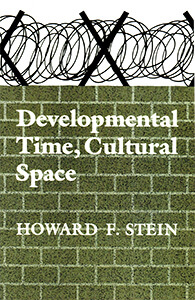 Author: Howard. F. Stein
Publication Date: May, 2013
Pages: 261
Trim Size: 5.5 X 8.5
E-Book
ISBN: 978-0-915042-17-3
List Price: $19.95
Paperback
ISBN: 978-0-915042-05-0 
List Price: $39.99

Hardcover
ISBN: 978-0-915042-06-7
List Price: $49.95

From Howard F. Stein's Preface to the Second Edition of Developmental Time, Cultural Space: Studies in Psychogeography:
"Psychogeographic scholars address the questions: Where does culture come from? What keeps culture going? What are the causes of cultural change? Traditional Western science has long contended— tautologously—that culture comes from culture; current history comes from what happened before, and so on. Scholars of psychogeography trace the unconscious roots of societies. We view people's metaphors and other cultural images as a "royal road" to the unconscious lives of people. Put another way, the unconscious can be explored in the world of ordinary symbols and ritual (i.e., in large groups)—not just in psychoanalytic psychotherapy (i.e., in individuals and therapeutic dyads). Far from being 'superorganic' and automatically internalized, much of culture proceeds from the inside out. Ideas and fantasies are externalized, cognitively reified, and then re-internalized. Culture is a projective screen and stage on which unconscious dramas are enacted, and experienced as being located 'out there'."
Reviews
"Howard Stein has one of the finest minds engaged in the study of culture in our time."
—Howard S. Schwartz, Professor of Organizational Behavior, Oakland University
"Howard Stein is one of the most astute and trenchant observers of the cultural scene, persistently drawing our attention to the dynamics that drive our actions and compel us to shield us from ourselves. Not only an academic scholar, he is a committed activist and public intellectual."
—Robert A. Paul, Professor of Anthropology, Emory University
"One of the world's most original thinkers in the human sciences."
—Robert Endleman, Ph.D., author of Psyche and Society
About the Author
Howard F. Stein is Professor at the University of Oklahoma Health Sciences Center, Department of Family and Preventive Medicine. He is the author of 26 books and over 250 published papers and chapters.